ABOUT US
ABOUT THE COMPANY
General Overview: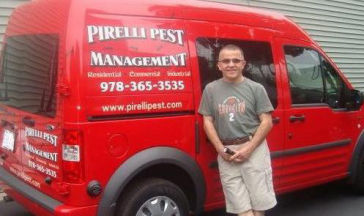 Pirelli Pest Management has been providing environmentally sensitive pest control services in the greater Metro West area of Central Massachusetts since 1995. We provide dependable and affordable quality services to Residential, Business, Commercial, and Industrial customers.
Our services include treatment for most common insects including ticks, spiders, bedbugs, flies, swarming insects; all types of bees, wasps, hornets and ants; and most types of rodents. We also provide subcontracted services for termites, wildlife removal, bat, and bird removal.
We offer one time, periodic, monthly, quarterly, and three times per year protection packages as well as emergency services. We offer a variety of service plans to meet your needs.
Licensed, Insured, Professionally Educated, Experienced, and Environmentally Sensitive
We are licensed by the State of Massachusetts to provide pest management and control. Jim is commercially certified & licensed; Jodi is applicator/core licensed. We are continually training in the latest "green" pest control techniques in order to provide you with the least invasive and most environmentally safe treatments available. We are members of, and active in, the National Pest Management Association, the New England Pest Management Association, and the Central Mass Pest Management Association. We are also members in good standing of The Nashoba Valley Chamber Of Commerce, and have an outstanding A+ rating with the BBB. We provide certification and FHA/VA Pest Inspectional Services.
Its the service after the sale that counts!
Our service doesn't end with the sale. That's where it starts. If you have an issue after treatment, or simply need some advice, contact us. We are here to help in any way we can. We're looking to partner with you and make sure your pest problems stay under control long after we've completed our basic treatment. We will provide you with not only the latest treatments to control pest, but advice and help with prevention and exclusion services to prevent recurrence. We believe that an educated customer is the best defense against future pest issues and will work to educate you before and after any treatments. We're here 24/7 if you need help.
Learn more about Jim and Jodi Pirelli - Your Pest Control Experts
Pirelli Pest Management is owned, managed, and operated by Jim and Jodi Pirelli. We are the people you work with from initial contact to treatment. We will be providing the pest management services for you. We are here to talk to any time you need advice. Get to more about know us, we're here to help.