SERVICE AREA
OUR PRIMARY SERVICE AREA
Our services are generally provided in the Greater Metro West area of Central Massachusetts. Cities and towns we frequent include Clinton, Sterling, Lancaster, Leominster, Fitchburg, Townsend, Groton, Chelmsford, Berlin, Bolton, Stow, Maynard, Acton, Carlisle, Concord, Hudson, Marlborough, Natick, Framingham, Westboro, Shrewsbury, Sudbury, Southborough, Brookline, Newton, South Natick, West Boylston, Boylston, Upton, Hopkinton.
We also visit many other locations within Worcester Country, Suffolk County, and Central Massachusetts. Call if your city/town is not listed and we can let you know if we provide service in your area.
Our General Service Area: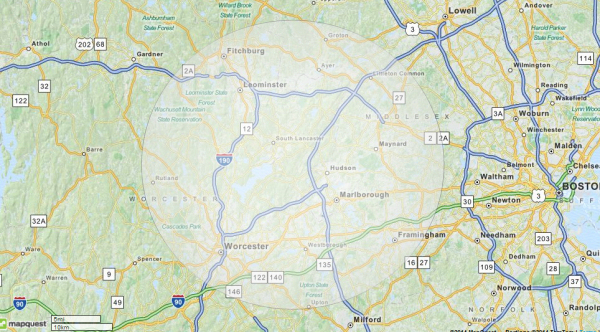 Cities and towns in our service area include:
Abington, Acton, Allston, Arlington, Ashby, Ashland, Auburn, Auburndale, Avon, Ayer, Bellingham, Belmont, Berlin, Blackstone, Bolton, Boscawen, Bow, Boxborough, Boylston, Bridgewater, Brighton, Brockton, Brookline, Cambridge, Canterbury, Canton, Charlton, Cherry Valley, Chestnut Hill, Chichester, Clinton, Concord, Concord (nh), Douglas, Dover, Dudley, Dunbarton, East Bridgewater, Epsom, Fitchburg, Foxboro, Framingham, Franklin, Grafton, Groton, Holbrook, Holden, Holliston, Hooksett, Hopedale, Hopkinton, Hopkinton (nh), Hubbardston, Hudson, Jefferson, Lancaster, Leicester, Leominster, Lincoln, Littleton, Loudon, Lunenburg, Mansfield, Marlborough, Maynard, Medfield, Medway, Mendon, Merrimack County, Middlesex County, Milford, Millbury, Millville, Natick, Needham, Newton, Newton Center, Newton Lower Falls, Newton Upper Falls, Norfolk, North Easton, North Grafton, North Oxford, Northborough, Northbridge, Norwood, Oakham, Oxford, Paxton, Pembroke (nh), Pepperell, Pittsfield, Princeton, Randolph, Rochdale, Rockland, Rutland, Sharon, Sherborn, Shirley, Shrewsbury, Somerville, South Easton, South Grafton, Southborough, Spencer, Sterling, Stoughton, Stow, Sudbury, Sutton, Townsend, Upton, Uxbridge, Waban, Walpole, Waltham, Watertown, Waverley, Wayland, Webster, Wellesley, West Boylston, West Newton, Westborough, Westminster, Weston, Westwood, Whitinsville, Whitman, Winter Hill, Worcester, Worcester County, Wrentham.