TESTIMONIALS
WHAT OUR CUSTOMERS ARE SAYING ABOUT US
Please see our A+ ratings on Angie's List. ( don't be fooled by false reviews elsewhere)
We have used Pirelli, for years. Jim, is super friendly and always on time.
-- Becky S, Stow, MA
I have been using Pirelli Pest Management Service since May of 2002 and have nothing but the best to say about their service. Jim Pirelli is always punctual and professional. He always informs me about what is being used for the prevention of household pests. He uses environmentally safe and pet safe products, which is very important to me. He always sends a postcard notifying me of my next visit. I am on the quarterly prevention plan so he services my house four times per year with treatments appropriate for the season.
In the ten years which I have been dealing with Jim, he has only raised his quarterly cost a minute amount. He is very trustworthy and above-board in all his transactions. Sometimes his wife, Jodi, accompanies him to his appointments. She is also the office manager. She is very efficient, professional, and friendly.
I just cannot say enough about how great this service is, how well it is run, and what wonderful people Jim and Jodi are. I would highly recommend their services and if you had an "A+++" rating, they would definitely receive it!
-- Judith A, Marlborough, MA
Jim the pest management professional. Was very efficient and friendly.
-- Lynne T, Stow, MA
They performed maintenance to control mice from the attic to the basement, ants from the perimeter of the house, and any seasonal needs as required. Jim Pirelli is always on time, knowledgeable, courteous, and if ever a new problem arises the respond by phone to offer a plan of action. We have been using Pirelli Pest management for several years and we highly recommend them.
-- Pat K, Lancaster, MA
Jim was on time as always gets right to the job required answers all questions.
-- Donald R, Marlborough, MA
I have used them for 4 or 5 years now. They have always been informative and efficient. I even trust them to go in the house to when I could not be there. Not many places you can do that, is there. And they love our dogs.
--Peter C, Stow, MA
We use Pirelli Pest Management for pest control. They come out regularly for preventative purposes. It is an ongoing service for our home. They put out baits and they spray and check for any evidence of rodents or insects. The quality of their work is excellent. They are thorough, prompt and very polite. They come about four times a year. They inform us when they are coming and they come on time. If we need to cancel they will set another date to come back out. If a problem does arise they take care of that. Once we had a wasp that built a nest under our porch and they came out and got rid of it right away. We donít know how to rate them on price because we donít have a comparison. Their responsiveness, punctuality and professionalism are excellent. We would continue to use them if we could but we are moving. We have already recommended them to the people who are moving into our house.
-- Charles M, Amesbury, MA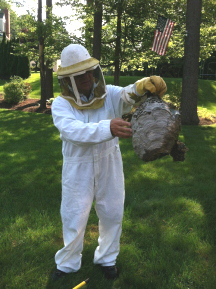 Pirelli Pest Management provided extermination services to prevent mice and treated an ant problem. Jim was on time and as always provided excellent customer service. He is very knowledgeable and has a great attitude.
-- Kim M, Groton, MA
Jim Pirelli is always on time prices have been stable over the years. He always goes that extra mile to inform as of any issues he may encounter.
-- Anthony C, Marlborough, MA
They come when they say they will. They do their job thoroughly. If there are any incidents of bugs, you can call them and they will take care of it.
--Charles M, Amesbury, MA

Goes through whole house and garage and baits traps for mice and then treats exterior for bugs. Local husband and wife run business. Very nice, efficient, and flexible.
-- Martha L, Northborough, MA
Pirelli Pest Management performs a quarterly service for prevention of insects and rodents. We occasionally have to call them to remove wasp nests. Jim from Pirelli Pest Management can always be counted on to know all about the pests he guards against to treat our home with consideration related to children, pets and plants. [He] comes in quickly to dispose of any wasp nests that we discover. [He] has practically become a member of the family we have used him for so long.
-- Julie M, Shrewsbury, MA
Excellent job, prompt, courteous, professional. Best part - no more ants. Excellent, came in, evaluated problem, used three methods to eliminate ants.
-- Judi P, Shrewsbury, MA
Pirellli pest was on time, very good service informative and helpful.
-- Anthony C, Clinton, MA